2022 is almost near, but before that, we have Christmas! I love Christmas. I love how bright and colorful the world becomes. Before the 25
th,
 we prepare food, gifts, and maybe even fireworks. Many people dress up for Christmas, and some of them also get their nails done for the occasion.
And you might be here for that reason. Are you having a hard time choosing the perfect Christmas nails? Don't worry because I have some cute nail ideas for Christmas, right below. Let's take a look at some of the best Christmas nail ideas for 2022!
1. Pink and Red Christmas Nails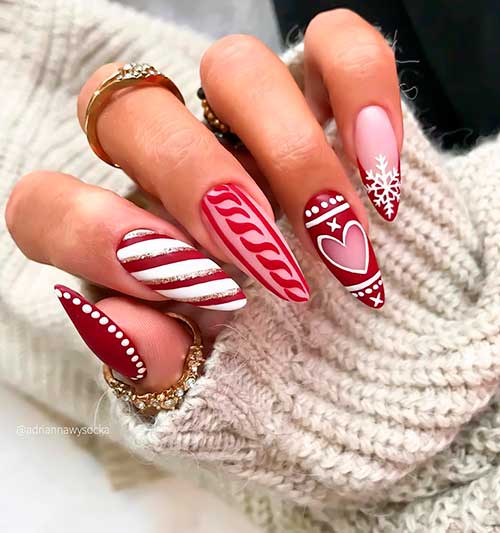 The first recommended Christmas nails look very girly and fun. The design for the thumb is very similar to another nail design that is very popular on many social media platforms. They are called candy cane nails. I love the simple color combination; pink and red really get along! I would actually love to get my nails done like this just for Christmas.
2. Red White Snowflak Nails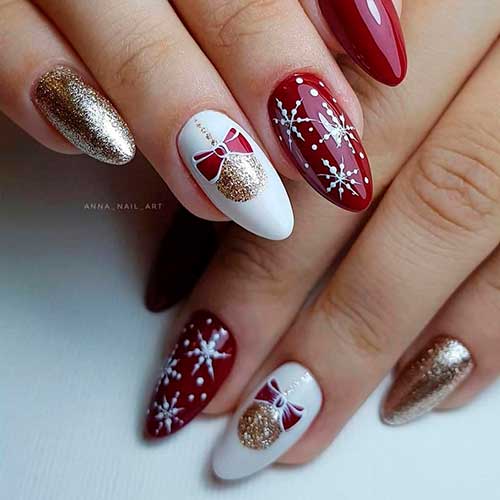 Christmas nails are nothing without the signature snowflake design. In this nail design, you can see that there are also little Christmas tree balls on each ring finger, and the gold is occupying the pinky. The snowflakes are simply painted white with a bold red for the nail's base. You can definitely see and feel Christmas from this nail art design.
3. Royal Blue Winter Nails for Christmas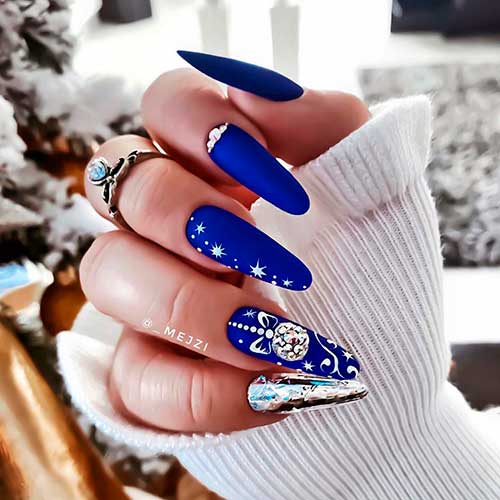 As for this nail design, it has a very powerful and bright shade of blue. I am not a big fan of nails that are blue, especially when they are in this shade. I honestly think that they are just not my color. But a lot of people can rock the color blue in any shade, so if you are this type of person, go ahead and try this nail design. The designs for each nail are very simple, but when you look at the ring finger, it has a very detailed design.
4. Red and Green Glitter Christmas Nails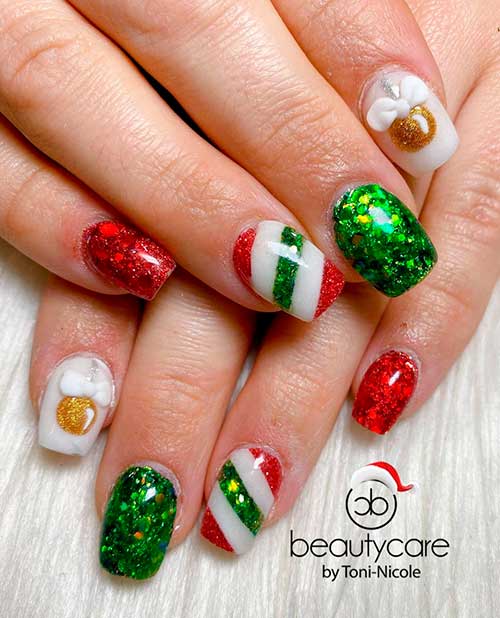 I think that this is the simplest Christmas nail design on this list. You can really see that this is meant for Christmas times. Everything about it just screams Christmas. Not my favorite, but I would love to try it. It has the colors red, green, white, and a little bit of yellow. If you like things simple but bright and colorful, this is the perfect one for you.
5. Dark Green Christmas Nails With Gold Glitter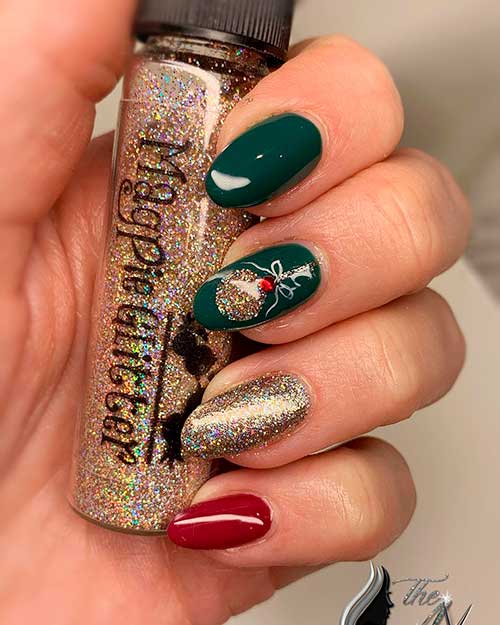 This is one of the best shades of evergreen, and the red and glittery gold just compliments the color. I think this is a great choice nail art design for adults. The choice of colors just gives me that kind of vibe. These are the type of nails that you'd have while drinking hot chocolate in front of a fireplace. I love how they're a Christmas tree ball on of the evergreen painted nails. It doesn't make the nail design empty, and instead of giving it more identity.
6. Cute Little Snowman Christmas nails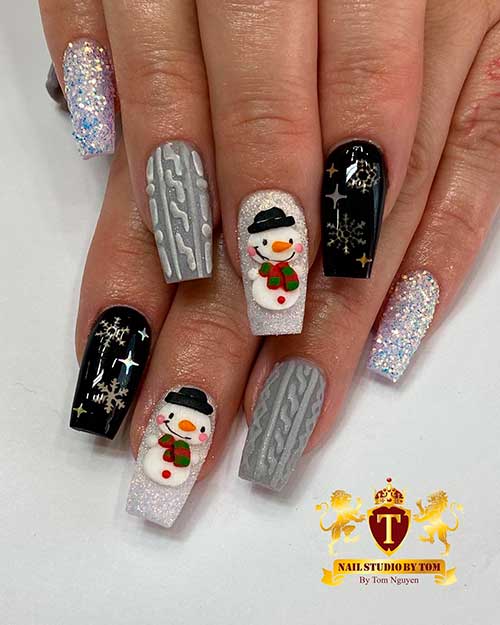 I love snowmen! I just love them a lot, and I think this is one of my favorites so far. It also has different designs on each fingernail. As you can see, there are glitters, more snowflakes, a snowman, and Christmas sweater nail. I find it interesting how the color black was added to this nail design. I highly recommend you try this one. I think this would fit any person.
7. Office Work Christmas Nails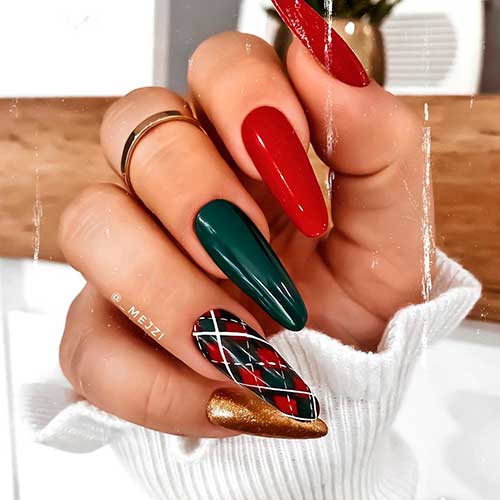 These nails give me the same vibe as the Red and Evergreen Christmas nails, well, kind of. It also looks very simple but not boring; the combination of colors with this accent plaid nail is also the same though the glittery gold shows a bit more. I think that this would look much better if your nails are shorter and they have straight ends.
8. The Snowflake Christmas Nails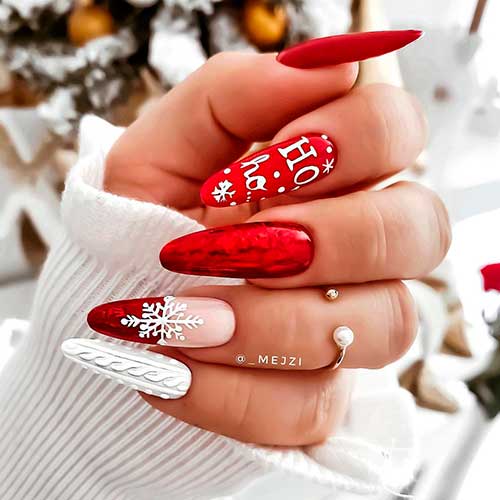 As for this design, it doesn't really stand out of the rest. It looks like a very simple red Christmas themed nails. I think they also used metallic red for the middle finger. I like how there is Santa Claus' popular big "HO", you can also see that there is a snowflake again. Nothing really much to say about. If you are a big fan of the color red, this is perfect for you.
9. Cozy with The Reindeer Christmas nails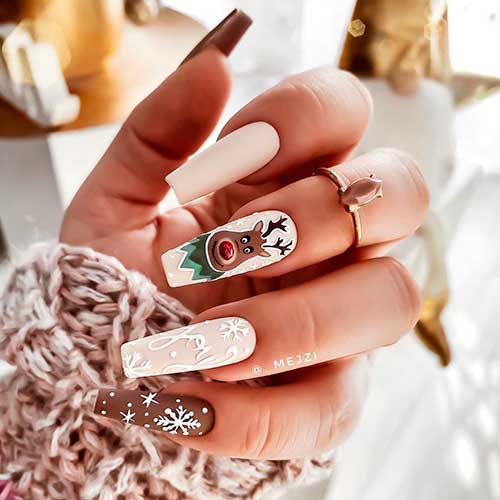 This is my favorite out nail art design of all the others. I like the brown with the cream color. There are a big reindeer and snowflakes to complement the colors. I highly recommend this one. I also recommend cutting your nails shorter for this design if your nails are at this length.
10. Baby Blue Penguin Nails Art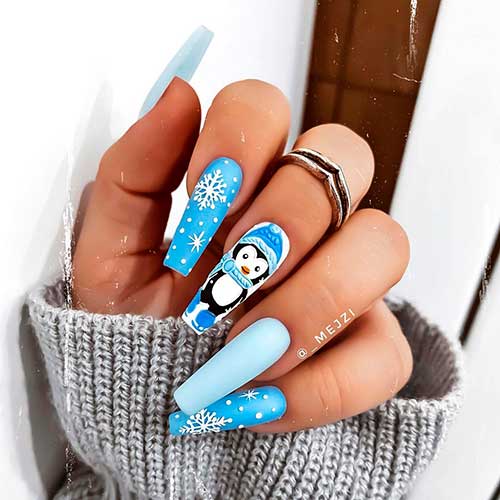 We have another blue Christmas nails design. Nothing much really, the shade of blue is much calmer, and I'd pick this over the first blue nails. I also like how there is a little penguin on the middle finger like the reindeer. They also have white snowflakes, which makes the nails less empty. I recommend teens to try this.
11. Dark Red and Green Christmas Nails Idea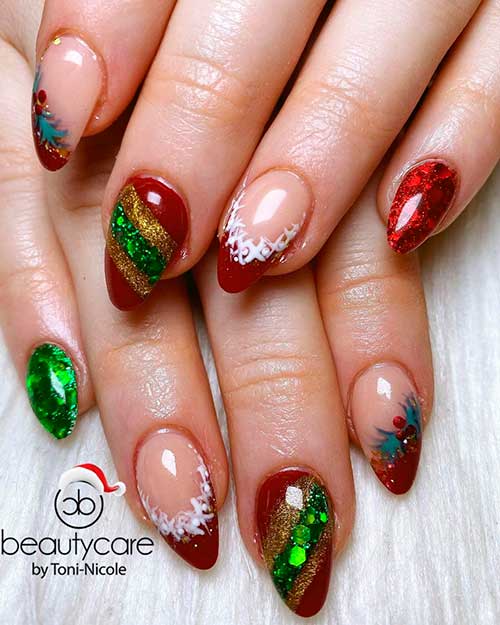 Another festive red and green Christmas nail design that feels you the Christmas vibes wherever you go. I love the gold, red, and green glitter, which makes this design super festive and enjoyable.
12. Red Christmas Nails with Glitter Idea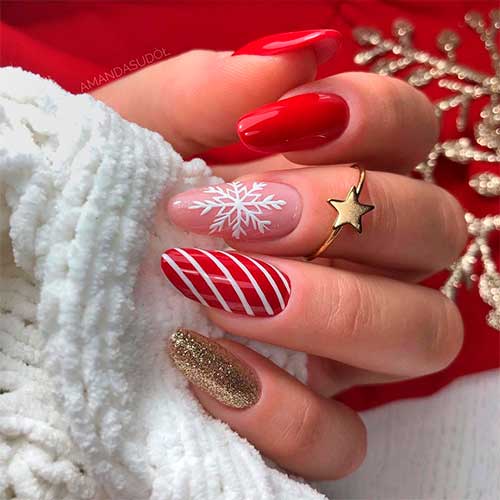 Red Christmas nails designs are so attractive and feminine, and I think this red nails set will attract your admiration, and you will love to try this season.
13. Blue White Christmas Nails Design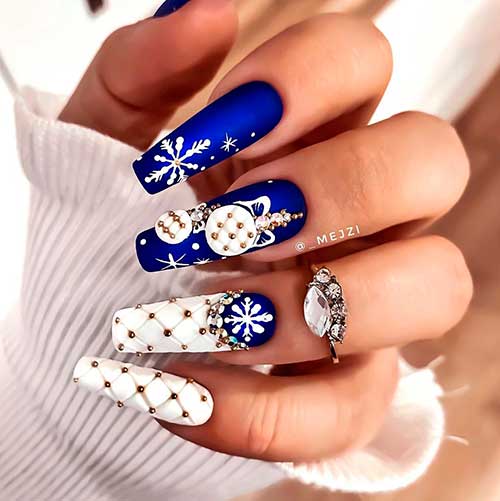 Foto Gallery
Stunning velvet blue cobalt colored coffin nails with white snowflakes and two accent quilted white nails. Go for this Christmas nail design and shine like a star.
Image Credits: 1. Instagram@adriannawysocka, 2. Instagram@anna_nail_art, 3,7,8,9,10, 13. Instagram@_mejzi, 4,11. Instagram@beautycaretoni_nicole, 5. Instagram@theavenuehairandnails, 6. Instagram@nailstudiobytom, 12. Instagram@amanda.sudolll,